Why You Need Automated Service Dispatching Software
The best way to appreciate the value of automated serviced dispatching software is to consider the value a good dispatcher adds to your business.
No other employee sees the big picture like your dispatcher. Who else can affect the efficiency of your business – for better or worse – like your dispatcher? After all, dispatchers:
Determine how much time your techs spend on the job, instead of on the road
Know which tech has the best skills or experience to get a job done right the first time
Maintain work schedules for techs and make certain all customer commitments are met
Balance your business needs with the personal needs of the techs
Automated dispatching software does nearly everything a human dispatcher does. While it cannot call a customer and have a conversation, it frees your dispatcher to do that, which makes it possible to deliver a much better customer experience.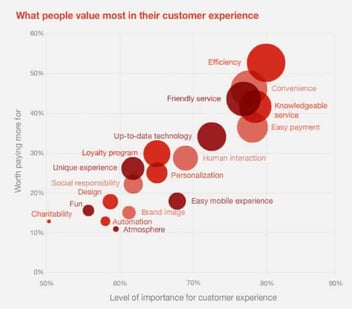 Automated service dispatching software matched with online scheduling software is all about developing the higher operating efficiency your customers want and expect. Providing a pleasing customer experience has always been good business but now is essential.
PWC, a top consulting firm, says a customer's experience is everything but many companies don't understand what customers really want and expect. Their research shows efficiency, convenience, friendly and knowledgeable service, and easy payment as the most people-pleasing attributes.
Research by HubSpot, a marketing automation firm, found that 93% of customers are likely to do repeat business with companies that provide excellent customer service.
IMPORTANT: Price is not a major factor in establishing the value of a service. Customers will choose saving time over saving money every time. In fact, the more time they save, the more they are willing to pay.
Your Software Must Enhance Customer Experience
The new generation of service scheduling and dispatching software introduced by Sera is part of an integrated field management software solution that books appointments, sends confirmations, and handles rescheduling, when necessary.
Now, instead of doing every routine task manually, you can manage the exceptions. You only need to get involved only when the situation requires experienced judgment. Dispatchers and CSRs can spend more time-solving problems for customers and developing stronger relationships.
Beware: some "automated" dispatching software requires a lot of manual input to book an appointment and then uses old-fashioned drag-and-drop technology to make changes. That's just manual dispatching prettied up a little, not a time saver.
How Good Dispatchers Get Better
Although your dispatcher has a wealth of knowledge of your business, she can't always stop to talk to you when you need information. The admin portal in field service software lets everyone see the same operational status information at the same time on their monitors.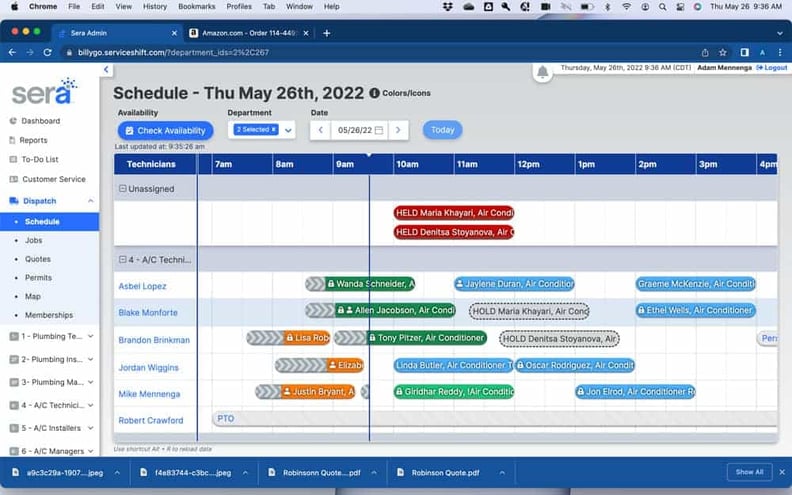 The software makes dispatching decisions instantly and informs technicians and office staff. That saves time and keeps dispatchers focused on customers' needs.
Time formerly spent thinking things through and making manual changes now can be used to give customers more personal attention. It also enables good dispatchers to support two-to-three times more technicians, which substantially reduces overhead costs.
Service Dispatching Software Interactions
Automated service dispatching software interacts with technicians, customers, office staff, and business owners just as human dispatchers do. Here's how they compare.
Technicians
Dispatchers not only must know the skills of each technician, current job assignment and location, and projected completion time, they also must have the full confidence of the techs. Technicians have to know that dispatching decisions are made for business reasons, not personal.
Automated dispatching leaves no doubt as to how dispatching decisions are made and why. The software setup includes technician profiles, complete with years of experience, licensing information, and the full range of the tech's skills.
Customers
In smaller home service companies, a dispatcher usually takes customer calls and schedules appointments, too. Good dispatchers know how to manage emergency calls from new customers without alienating regular customers when they need to adjust schedules.
Sera's dispatching software considers the same issues, beginning with a provision for booking emergency service in the scheduling software. The dispatcher can monitor the situation without having to move schedules around manually and then call the customer to discuss the solution instead of the problem.
Office Staff
The bigger the company, the more specialized jobs become. Big company dispatchers may not have direct contact with customers, but they work closely with customer service reps to make certain the schedules they set are realistic and workable.
This interaction is built into automated service dispatching software, which is linked directly to the online scheduling software that sets the appointment date and time. Nothing gets lost or overlooked, and it all happens in seconds. Office staff can see the information presented live via dashboard presentations in the administrative portal.
Owners
When you want to know what's going on in the operations side of your business the dispatcher doesn't simply have her finger on the company's pulse, she is the heartbeat. Most owners we talk with say having frequent talks with dispatchers is the only way they can see the big picture.
Automated dispatching software, in concert with the scheduling software, admin portal, and tech app provides the same information, but a lot faster. You can manage it from anywhere you have an internet connection.
What Is Your Dispatching Strategy?
Dispatching has strategic business value. Having a clear dispatching strategy helps avoid chaos and lost revenue opportunities. Plumbing, HVAC, and other field service companies usually have a go-to strategy for regular operations but find it necessary to modify it from time to time.
Sera automated service dispatching software offers unusual flexibility for establishing and managing dispatching strategies.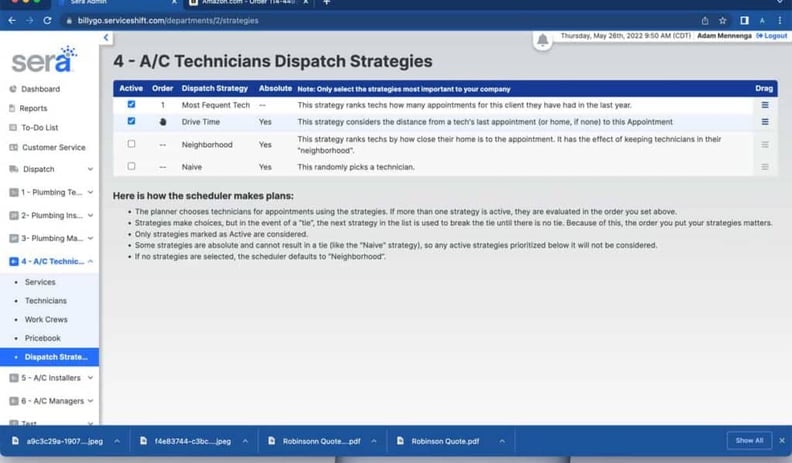 Tech location/drive time – This option assigns the tech nearest the job whose schedule will best match the assigned appointment time. This boosts operating efficiency by minimizing transit time, so techs work more and drive less.
Neighborhood – Another strategy is to keep techs in or near a specific community or part of town, preferably near where they live. In addition to saving time between jobs, this makes for shorter drives to start and end the day, reducing overall drive time.
Customer preference – Some customers develop confidence in a particular tech and request that tech by name. That's who to send unless it's just not possible. If that tech's schedule would require a different appointment time the customer can decide whether to wait or have a different tech.
Tech skills – Some jobs require special or advanced skills. If the job involves a tankless water heater repair, but the nearest tech doesn't have the skills or experience required, the software assigns the job to a tech who does.
Availability/Priority – A job doesn't have to be an emergency to require priority treatment. Automated service dispatching software considers all the factors of a situation, the same as a human dispatcher would – but faster – and makes the change immediately.
How Automated Dispatching Helps Your Business Grow
Automated service dispatching software elevates the job of the dispatcher to Business Analyst, with a wealth of live data and operational reports available on request.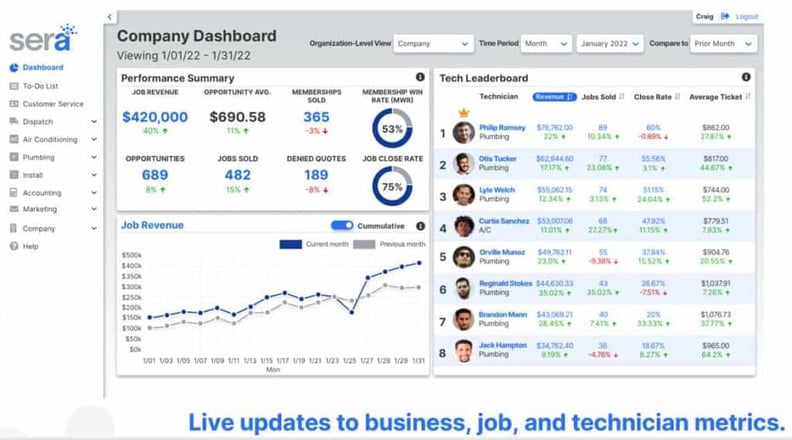 She has time to call customers to discuss schedule changes, as well as to look up open proposals to help close pending deals. Follow-up calls on these sales leads are like found money because you already have an established relationship with the prospective buyer.
We see improved operating efficiency in company after company when they start using Sera Systems software. Owners of smaller companies with no full-time dispatcher and companies with 5-10 trucks and a single dispatcher have documented efficiency gains up to 30% and more.
Business owners who wanted to expand but couldn't decide whether to add a dispatcher or a tech discover they can do both when they use automated dispatching in Sera's integrated field service management software package.
Dispatching in an Integrated, Automated Business Solution
From the outset, we at Sera have developed service dispatching software as one of four integrated inseparable elements:
Smart Scheduler/Automated Dispatcher
Tech App
Admin Portal
Customer Portal
They all work together using live data, so everyone always has the most current information.
First, customers schedule their own appointment date and time using the scheduling side of the smart scheduler/automated dispatcher on your website (added in minutes with our exclusive software widget).
The tech app receives data from the scheduler and then assigns jobs and provides GPS routing and tracking. Techs can see the problem in the customer's own words and with images they upload.
It also shows customer history, if any, and generates good-better-best proposals so customers can clearly see their options. The tech app also handles invoicing and secure payment processing.
The customer portal shows customers their information for each address, which rental property owners really like. It lists contact information, service history, equipment and warranty details, as well as copies of all service calls, tech notes, and invoices.
The admin portal brings all this information together on dashboards that provide up-to-the-second live data for the office staff.
Sera simplifies things to make your life easier and your time more productive. Schedule a personal demonstration now!
Conclusion
Automated service dispatching software that is part of an integrated field service software package can boost your company's operating efficiency by up to 30% or more. This turns more revenue into profit and paves the way to an outstanding customer experience.
About eight out of 10 customers will tell friends and family about companies that provide a great customer experience, and more than nine out of 10 will do repeat business with those companies.
Next-generation field service management software, now available from Sera Systems, relieves dispatchers and CSRs of routine, repetitive tasks in scheduling and dispatching. Instead, they can spend more time helping customers and following up on outstanding proposals.
The service dispatching software interacts with technicians, customers, technicians, and owners the way human dispatchers do, but much faster and with practically no chance of error. It also enables a variety of dispatching strategies you can change as necessary to fit your requirements.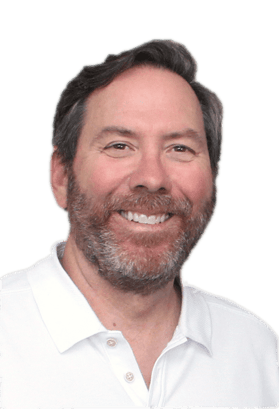 See how Sera's Automated Dispatching Software Works with our Smart Scheduler, Tech App, Admin Portal, and Customer Hub to streamline your business and grow your bottom line fast!
REQUEST PERSONAL DEMONSTRATION