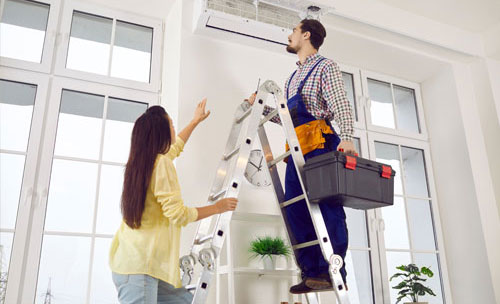 Small businesses constantly explore new techniques for improving customer relationships and increasing sales. This is especially true for home service companies like residential HVAC and plumbing contractors, whose success depends on delivering exceptional service to attain new and repeat customers.
Of the many solutions to improving customer satisfaction, few are as effective as field service management (FSM) software. Learn how field service software helps businesses like yours meet and exceed customer expectations.
How does FSM software improve customer satisfaction?
A 2020 report from Salesforce finds that 66% of customers expect businesses to understand their distinct concerns and expectations. For field service companies, this means homeowners want more visibility and control over service projects. For instance, many homeowners expect contractors to provide self-service features on their website or mobile app so they can schedule service requests online themselves.
How do residential contractors give homeowners this control? They can with field service management solutions, like FSM software, which offers capabilities that help augment the customer experience, reducing effort and stress for the homeowner and providing them with more oversight of service projects. Consider the following benefits of field service management software for homeowners:
Improves Customer Communication
Communication is key to enhancing customer satisfaction. Most FSM software solutions include portals that help keep homeowners informed about service projects, ultimately increasing their control. Common functions of these portals include:
Monitoring job status
Viewing job history
Asking questions of customer support teams
Reviewing invoices
Accepting estimates
Providing reviews for recent service
These portals are typically compatible with mobile devices so homeowners can conveniently access information, whether at home consulting with the field service technician or on the go.
Some FSM software comes with additional functions to boost user experience. For example, Sera's software solution includes live customer booking for homeowners to schedule appointments at times that work for their schedules. What's more, it integrates directly with a business website to provide contractors with convenience.
Makes for a More Transparent Scheduling
Service scheduling can be a challenge for residential contractors. Improper workflow management and dispatching practices can complicate business processes, heightening stress and diminishing productivity. Implementing FSM software helps streamline field service processes, promoting more scheduling efficiency.
The advantages to contractors are clear, but FSM software also serves homeowners by making scheduling more transparent. Scheduling software minimizes instances of overlaps, ensuring homeowners experience shorter wait times following service calls or requesting appointments online.
Additionally, some software allows businesses to automate dispatching. Dispatchers can track field workers in real time to reroute personnel to new or emergency job sites according to technician locations, skills, and other factors. This empowers techs to reach homes in less time, raising customer satisfaction.
Provides Customers with a Sense of Professionalism
Part of what makes FSM software so appealing is that it shows a commitment to continual innovation and improvement. Many of the tasks FSM software help automate are more susceptible to human error when completed manually.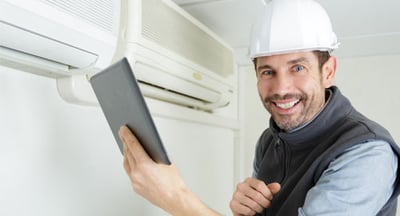 Schedule overlaps, pricing issues, and similar mistakes can all leave homeowners with a negative impression of your service and can prevent them from working with you again. By significantly decreasing the potential for errors, software contributes to better professionalism.
What is the difference between CRM and FSM?
Many cloud-based solutions are available to help residential contractors simplify processes and grow their businesses. In addition to FSM software, another popular technology is customer relationship management (CRM) software.
CRM software is focused on customer data and considers the interactions a business has with a customer from the first contact to the first sale. FSM software assists with the processes that occur after the sale. Residential contractors may utilize FSM and CRM software to maximize data to enhance efficiency and profitability.
How else does FSM software assist contractors?
As important as increased customer satisfaction is for a residential contractor's success, it's not the only benefit of field service management software. Business owners find that FSM software also provides the following advantages:
Reduces the Cost of Doing Business
FSM promotes the optimization of resources by strengthening the core functions of home service companies. It mitigates waste, which helps lower costs and empowers more streamlined operations.
Boosts Data Entry
Contractors who still rely on outdated methods of filing paperwork may be creating more work than is necessary for data entry. FSM software allows businesses to digitize documentation, decreasing data entry tasks and the likelihood of errors.
Improves Field Team Productivity
By eliminating the amount of time spent on tedious tasks like updating logs and completing forms, FSM software enhances field technician performance. Similarly, the software can also strengthen coordination between techs on-site and admin staff at the office.
Streamlines Job Scheduling and Dispatching
Even as contractors experience more service requests, they can trust that FSM software will help maintain a smooth scheduling and dispatching system to handle multiple jobs at once. Scheduling software not only bolsters office efficiency but can enable contractors to increase overall bookings.
Invest in Greater Customer Satisfaction with FSM Software
For residential HVAC and plumbing contractors that want to augment customer satisfaction, field service management software offers the ideal solution. Functions like customer portals, transparent scheduling, and more all contribute to a better customer experience.
Small to medium-sized residential contractors seeking FSM software may consider Sera. Our software is built on four pillars that support the structural organization of any home service business.
Whether for contractors operating plumbing, HVAC, electrical, or similar field services, our software provides the capabilities necessary to remove inefficiencies, save time and money, and boost the bottom line.
Contact us today for more resources on FSM software or to schedule a 15-minute discovery call.