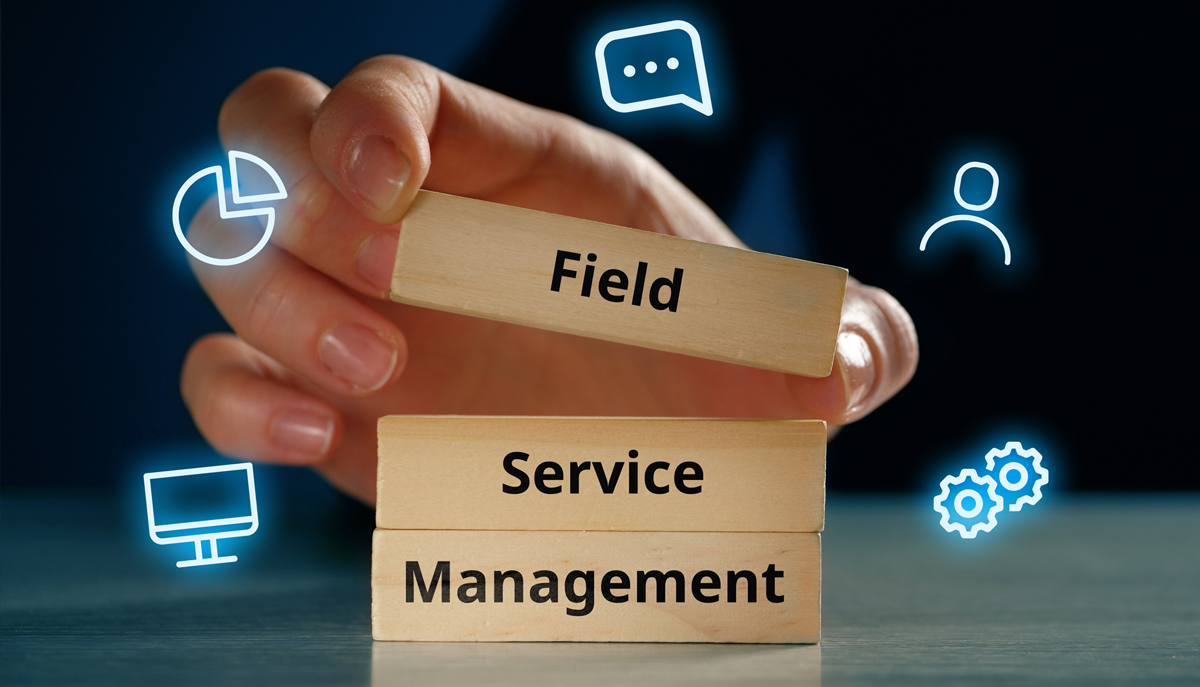 When it comes to choosing the right field service management (FSM) software, the best option will depend on the distinct needs and concerns of residential contractors. While several software programs are regularly recommended for smaller operations, deciding on the best field service management software for residential contractors and other small businesses involves several key considerations.
What is field service software?
Field service businesses are unique in that much of their operations occur off-site at clients' properties. For many years, these companies would receive service requests via phone, and managers manually assigned jobs to field technicians.
When the job was done, technicians would bring records back to the office for invoicing. This system left dispatchers and admin staff in the dark about what happened during the job.
Field service management software introduced a more efficient, technologically advanced way for employees to handle the various tasks associated with their work. It provides a more accurate picture of what each project involves and the resources necessary to complete the job.
The software streamlines business operations, helping contractors ensure the right resources and employees are dispatched to the right location to get the job done correctly the first time.
Since FSM software supports operational efficiency, it can also boost customer service and profitability. Scheduling and dispatching, customer information, and billing are some responsibilities field management software can address.
While FSM software is similar to other types of business software, such as customer relationship management (CRM), it offers distinct features and capabilities.
What to Consider Before Purchasing
Different checklists will highlight different aspects to consider when choosing field service management software. As mentioned, the final decision comes down to what you hope to achieve with the technology. Below are three important considerations when making your choice.
1. Integrations with the current tech stack
One of the best benefits of FSM software is its features and functionality. You'll find software with solutions for job management, such as GPS tracking, membership management, time tracking, and route optimization, as well as for customer management and payment processing.
However, attaining all the required features may require integration with other software. Another popular integration is for accounting purposes. Connecting billing and invoicing information from your FSM software to your accounting system allows you to optimize documentation. Many small field service companies choose to integrate FSM with QuickBooks for accounting.
You may use different management tools than the ones mentioned above, but in any case, verifying the FSM software you choose will integrate well with them is essential. Seamlessly integrating software will help cut down on manual efforts and maximize field service operations.
2. Software features
What features does the FSM software include? Search for a solution with the features your business needs to increase efficiency, performance, and customer satisfaction. The following are key field service management tools to look for when browsing software:
Scheduling and dispatching: Sets appointments and determines which techs are best for the job according to availability, capability, and priority. Some FSM software, such as the software offered by Sera, utilizes automated intelligence for more dynamic dispatching that simplifies scheduling

Live customer booking: Provides a customer portal for conveniently booking future service dates

Create quotes/estimates: Gives techs the insight to offer quotes for service requests on the spot without needing to consult managers

Pricebook management: Enables businesses to update their pricebooks rapidly to ensure customers see the most accurate prices. Sera provides a free pricebook for new HVAC and plumbing clients, which allows for quick and easier price adjustments after the initial setup

Business insights: Delivers real-time insight into the information required to enhance business processes

Payment portals: Provides customers with a more convenient way to pay bills online and helps businesses manage consumer financing plans and get paid sooner
3. Scalability
The goal of any new technology is to help your business grow. Unless you expect to remain stagnant, you'll want FSM software that offers flexible pricing that can scale up or down as your company evolves..
Two main aspects contribute to scalability — the number of people you employ and the volume of service requests. Naturally, as you grow the number of daily service requests that need to be assigned will increase, which can increase the need to hire more employees. It's also important pricing is transparent as many providers also charge per user, especially those offering online or cloud-based software.
You want to ensure your investment in FSM software reaps more benefits than it costs. The ideal partner will make it easier to adjust pricing based on the number of the techs and overall growth.
Why use field service management software?
Even without FSM software, small field service businesses would be tasked with manual project management. Software solutions enable administrative teams to simplify processes and have more oversight with dispatching and related functions.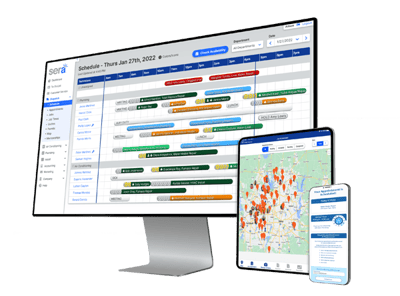 Since most software is compatible with mobile devices, it can also help technicians on-site communicate with office staff while ensuring everyone has real-time access to information. Lastly, small contractors can use FSM software to deliver better customer service with appointment setting, payments, and more, which ultimately improves their overall customer experience.
Who uses field service software?
Any business that conducts field service can benefit from using FSM software. HVAC and plumbing contractors commonly use the technology, but it's utilized by other segments of the field service industry, including:
Electrical

Garage door contractors

Landscaping

Commercial service
The Right FSM Software Matters for Small Business
Choosing field service management software is no small feat. Beyond integrations, management features, and scalability, you also need to think about ease of use, security, and one of the most important aspects — pain-free onboarding. However, taking the time to consider what your business needs most will set you on the right path toward making an informed software decision.
For a field service management platform designed for businesses like yours, turn to Sera. Our software is built on the four pillars necessary to make a successful service company — Time Management, Cash Flow, Member Management, and Margin Management.
Contact us today to schedule a call and learn more about field service management software for residential HVAC and plumbing contractors.