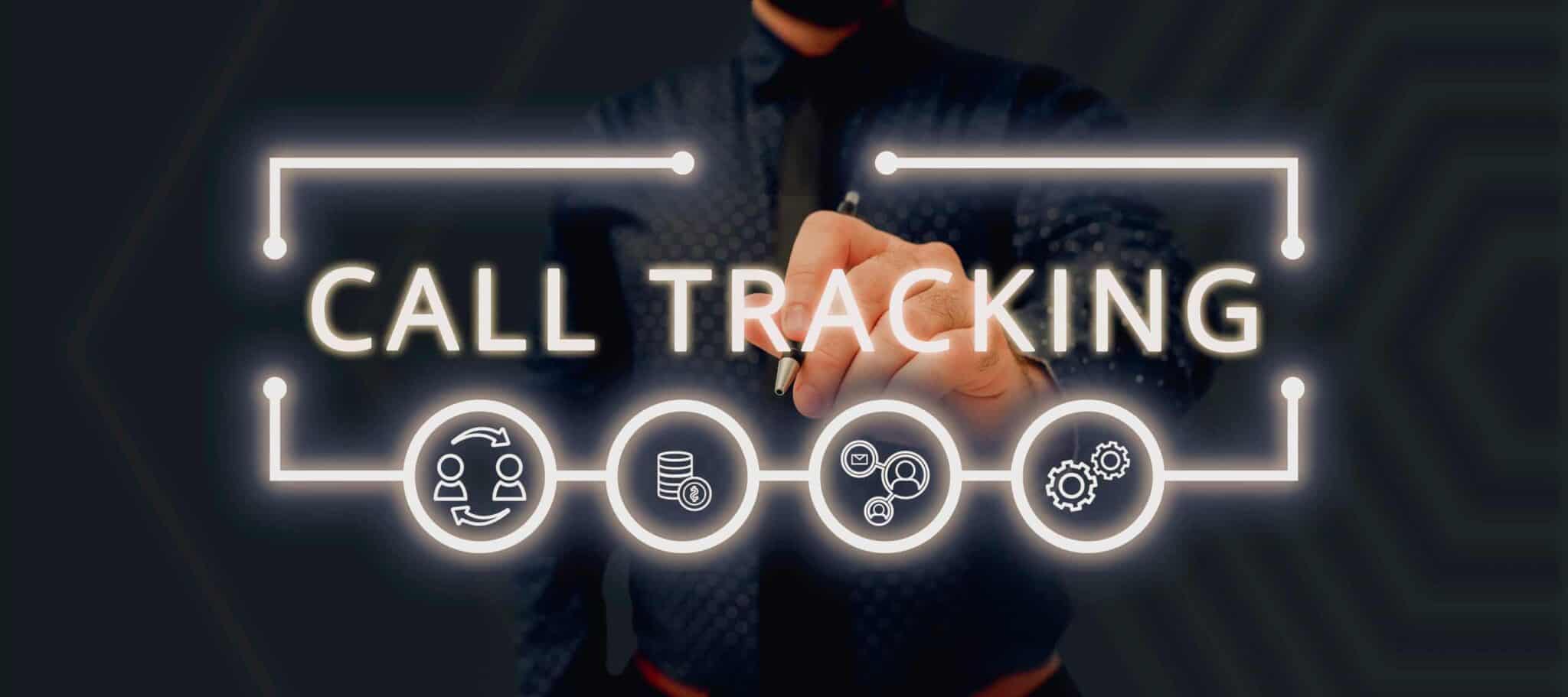 Why is Sera talking about call tracking when we have an online scheduling tool that makes it easy to schedule appointments for plumbing, HVAC, electrical, and other field service appointments without making a call?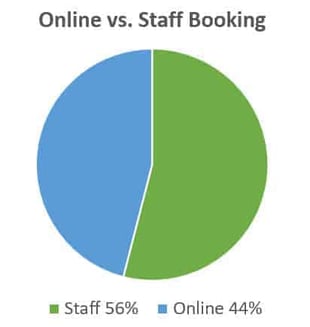 It's simple: people still use the phone. Research by zippia.com shows across all businesses 46% of appointments are booked online, whereas 54% are set with phone calls.
In plain terms, you need to make it easy to book appointments either way or miss half of your sales opportunities.
Combining field service management software with call tracking software produces a result greater than the sum of its parts. For a clearer picture, let's look at what call tracking is and how it works.
Call Tracking Definition
Call tracking is a process that determines how people found your business – offline AND online – and then called you.
Call tracking assigns unique phone numbers to specific ads or campaigns so you can see which ones generate phone calls and which don't. With that information, you can adjust your marketing spend to get the most out of every dollar.
Potential customers who look online for the products and services you offer may connect with your business online by clicking on links or call-to-action buttons that take them to your website. However, they may pick up the phone and call instead.
In fact, about 60% of people start online when searching for plumbing, HVAC, electrical, and other home services.
Once they select a company, more than three-fourths of those online searchers call the businesses instead of clicking on a link to schedule an appointment.
This illustration from businesstocommunity.com lists some of the most common starting points for a customer's journey.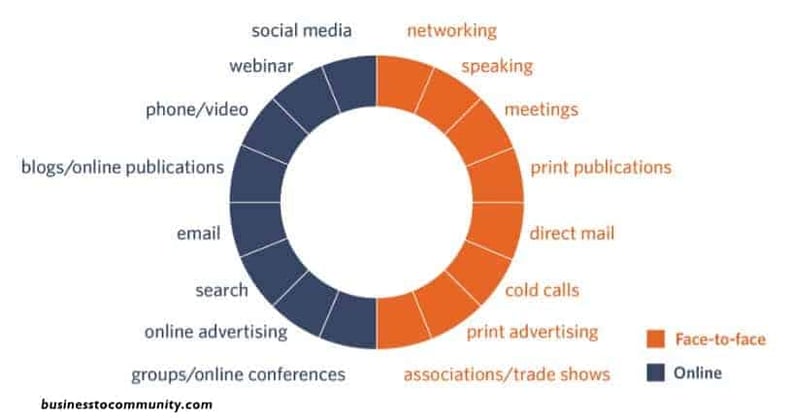 Customers that start on either the blue side or the orange side may ultimately contact your business online or by calling. With all that going on, many field service businesses find it's too much to keep track of – and this illustration doesn't include TV or radio ads.
How can you possibly figure out where or how people discovered you? Call attribution software sorts it out for you.
Call tracking also helps you provide a welcome reception, regardless of the route people took to contact you. It captures information to follow what happens inside your organization after you receive the call.
It also can help you see at a glance whether a call came to your business from someplace other than online channels, including brochures, flyers, newsletters, billboards, or live events.
How Call Tracking Works
If you have ever noticed the phone number shown on a business website is different from the one published in phone directories there is a good chance that company is using call tracking, especially if the area code is different.
That's because call tracking companies assign a different phone number for each marketing campaign. Each individual piece of marketing material, online and offline, can be assigned a unique phone number.
So, if you notice you get a lot of calls from a particular phone number for a water heater special offer, you'll want to take a close look at it to see which one it is and why it's pulling well. It could be the headline, layout or images, or differences in the copy.
By comparing that ad to one that is getting fewer calls or none at all you can start using what you've learned to improve the others. Many businesses run multiple versions of the same offer using slightly different wording to see which version works best, referred to as A/B testing. This enables them to invest in the best-performing social media and pay-per-click online ads.
Is Tracking Calls Really That Simple?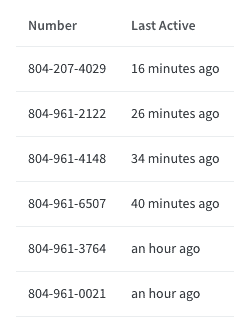 It really is that simple for your business, but the call tracker software is paddling away beneath the surface like a duck on a pond. You can imagine what a chore it would be to track all those numbers yourself on spreadsheets.
The software handles everything instantly with something called Dynamic Number Insertion (DNI).
DNI automatically assigns phone numbers from its available list and keeps track of each listing. It does the spreadsheets for you. In the figure shown here, each phone number rings at the same business but each would appear on a different web page or marketing campaign.
If a website visitor first goes to your site through an online ad and returns later via a Google search that visitor sees the same phone number each time.
If a website visitor first goes to your site through an online ad and returns later via a Google search that visitor sees the same phone number each time.
All this functionality contained in the software can be added to your website with some Javascript code provided by the call tracking software company.
But there's more. Depending on the type of call tracking you use, it can provide even more information to help you track how customers interact with your business once they've looked under the hood. For example, you can play back call recordings of inbound calls or read transcripts to see how well your staff interacts with customers.
Three Types of Call Tracking
Depending on the situation, you may want to use different types of tracking.
1. Source-Level Tracking
Our previous discussion has been about source-level tracking, which allows you to track the sources of calls and track their effectiveness. Source-level tracking provides a limited, high-level view of individual campaigns.
If you want a deeper data dive or are running multiple campaigns, you have a lot of numbers to track.
2. Keyword-Level Tracking
This type of tracking boosts your search engine optimization (SEO) efforts by telling you the keywords people put in search boxes. This is especially useful for paid search and social media advertising. For example, if you get good results with a lower-priced version of a similar keyword that costs more you can lower your advertising cost.
3. Multi-Channel Tracking
This provides a detailed account of how customers interact with your business, from first contact to last. Multi-channel tracking brings together data from online and offline source-level tracking to track each step in a customer's journey.
The amount and complexity of the data can be overwhelming for smaller companies without full-time marketing and sales staff, however.
For most small-to-medium-size field service companies, source-level and keyword-level call tracking provide all the information needed.
What Call Tracker Data Tells You
Depending on the level of service to which you subscribe, the dataset for call tracking can be quite detailed, including: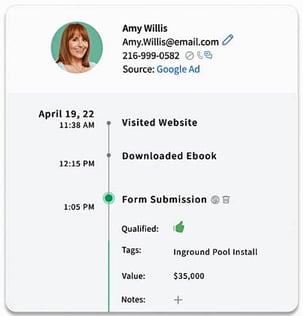 Caller's name, phone number, and location
Source of the number called (direct mail, PPC, social media, etc.)
Digital audio recording of the actual call for staff performance analysis
Written, highlighted call transcription
Time of day the call was placed
Duration of call
Caller timeline, including all previous calls and texts
Note and tags on previous interactions
DNI also provides intelligence about site visitor sessions and the effectiveness of paid search keywords. This includes the landing page, pages visited, the page the caller was on when the call was made, and the device or browser the caller was using. Call tracking data also will include data from previous calls, form submissions, and texts.
In addition to individual caller data, you also get aggregate data for all calls, including call duration, sources/campaigns, first-time callers, total number of calls, landing page performance, and how many calls were received in each hour of a 24-hour day.
The Killer Combination for Home Service Businesses
CallRail, like Sera, is a software-as-a-subscription (SaaS) product designed to provide a wealth of information that home service businesses can use to boost efficiency, reduce expenses, and keep more of the cash that flows through them.

Sera – A Quick Review
As a quick review, Sera is an integrated field service management software package comprised of four interactive modules that include everything needed to run a profitable, growing home services business.
Customers use the Customer Hub to book their own appointments online. The Scheduler/Dispatcher then books the appointment and sends immediate confirmation. Then before the appointment time, it selects the best technician for the job, based on the dispatching strategy selected by the owner/operator.
When the Scheduler/Dispatcher assigns the job it notifies the technician via the Tech App, which provides job details and GPS routing. The Tech App shows customer contact information, a description of the problem, and any photos the customer may have uploaded.
The Tech App uses the price book stored in the system to generate Good-Better-Best proposal options. The app then accepts digital payment and emails a PDF receipt.
The Customer Hub provides a password-protected area where customers can track not only the current job but also review records of all previous jobs, invoices, and technician notes. Sera software adds all these features to the business's existing website.
The Admin Portal simultaneously displays all this information for management using live data. Everyone in the company can have access to the same information instantly from any place with an internet connection.
Sera Combined with CallRail Call Tracking
The smart automation of Sera, combined with the full-service call tracking of CallRail, is a powerful combination that produces even more profit-making power.

The Sera/CallRail combination has been specially engineered by our respective technical teams to work right out of the box. Home service businesses already using Sera or CallRail can add combine them and know they are 100% compatible.
CallRail offers all the capabilities discussed above and a few more, including:
Call Tracking
Inbound Calling Routing
Ad Tracking
Transcription (add-on)
Call Recording for Quality Management (add-on)
Lead Center Tracking with Text & Chat (add-on)
Deep Analytics into Call Performance (add-on)
Additional Benefits of CallRail/Sera Integration
View and claim calls in CallRail or Sera – While viewing in Sera, the incoming call number is displayed, Sera checks to see if the number is associated with any existing customer accounts. If so, Sera will display the customer's job history for the past 60 days.
Instant marketing effectiveness insights – Track the results of your advertising spend by combining incoming call data and actual job outcomes by lead sources, ad tracking, sales, open proposals, and more.
Conclusion
As online scheduling of appointments for home services continues to grow, it's clear the telephone is not going away. In fact, across all types of business, more than half of appointments result from a phone call. Offer both ways to avoid missing half of your potential opportunities.
Call attribution software provides the same kind of detailed information about phone activity that you get from web analytics. It assigns unique phone numbers to specific ads or campaigns – offline AND online – so you can see which ones generate phone calls and which don't.
There are three types of call tracking – source-level, keyword-level, and multi-channel. The best type to use usually depends on the size of the business and its marketing budget. For most small businesses source-level and keyword-level are sufficient.
Field service businesses can combine call tracking with some field service management software to get instant information that office staff can convert into more sales with higher profitability. The combination of Sera Systems FSM software with CallRail call tracking software delivers 100% compatibility.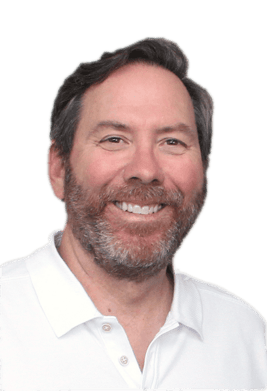 "Sera's FSM software uses your P&L and other financials to set profitable pricing, while dramatically reducing overhead to produce positive cash flow."
GET A FREE DEMO