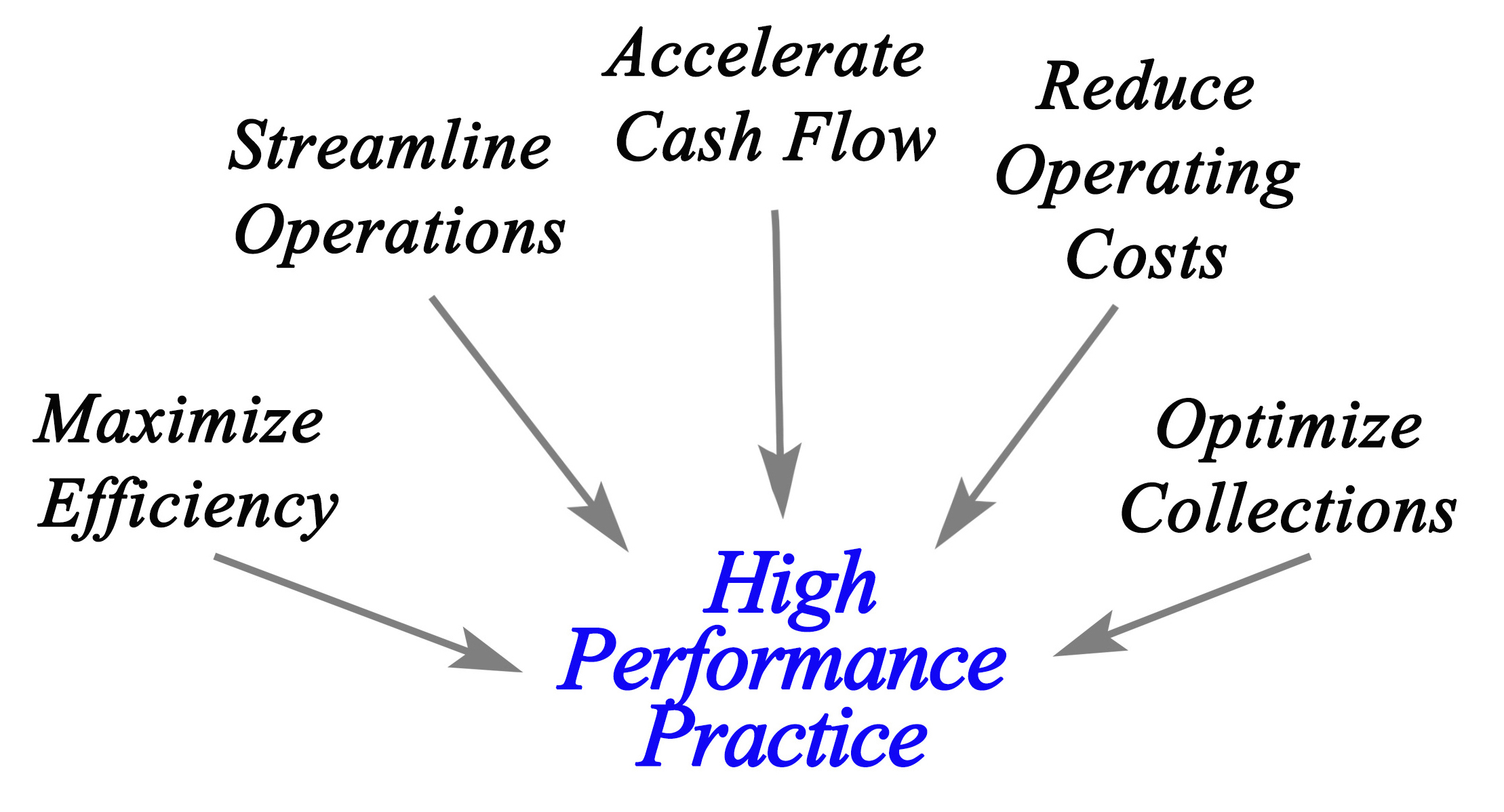 The purpose of HVAC software for small businesses is to make your business run as efficiently as possible. That means using each minute effectively so you can generate more revenue every hour of the day.
Field service management (FSM) software provides the best and fastest way to improve efficiency by automating routine, repetitive tasks, such as scheduling, dispatching, GPS routing, proposals, invoicing, and payment processing.
Instead of paying CSR/dispatchers to schedule appointments and assign techs, let the software handle it. Put your people to work doing what increases revenue and provides time to deliver exceptional customer service that keeps people coming back.
Small business HVAC software that automates scheduling and dispatching enables your CSR/dispatchers to support twice as many techs as manual systems, so you can add many more techs than support staff to keep your business and profits growing.
Count Your Steps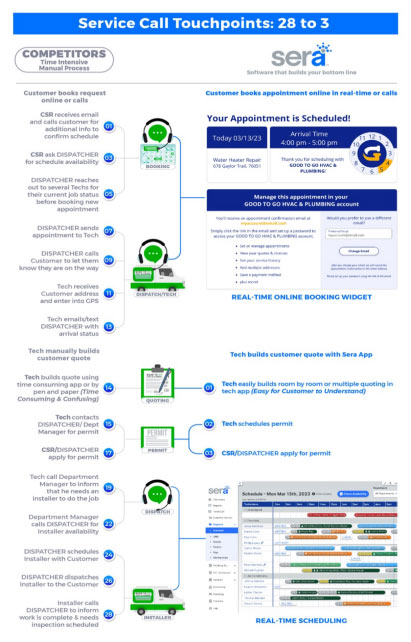 If you count the number of steps your staff must take to complete a full service call cycle from start to finish, you may be surprised at the number. Manual systems require 28 separate interactions, including calls, emails, or texts among customers and staff.
We developed our FSM to reduce those "touch points" that require a human touch to just three. If you did nothing more than automate scheduling and dispatching, you would see an immediate uptick in operating efficiency.
Across-the-Board Efficiency Gains from HVAC Software
If that gets your interest, let's take a closer look at how HVAC software for small businesses streamlines business operations to make across-the-board efficiency gains in:
Scheduling
Dispatching
Tech performance
Reporting & analysis
Cash flow
Customer service
Marketing
Scheduling
Online self-scheduling by customers puts them in control of their time, which they love. When the software sends an immediate appointment confirmation message it puts their minds at ease. This kind of customer experience alone will win a lot of business, according to one consulting firm:
Nearly 80% of American consumers say that speed, convenience, knowledgeable help and friendly service are the most important elements of a positive customer experience."

PWC Consulting
"Nearly 80% of American consumers say that speed, convenience, knowledgeable help and friendly service are the most important elements of a positive customer experience." PWC Consulting
Dispatching
Depending on the software used, automated dispatching should reduce staff time by at least 50%. Sera users consistently achieve 80% reductions.
Automated dispatching saves time for customers, too. GPS routing greatly reduces delays caused by wrong addresses. HVAC software that provides techs a job brief when they receive each assignment reduces diagnostic time when the tech arrives on-premises.
Automated dispatching saves time for customers, too. GPS routing greatly reduces delays caused by wrong addresses. HVAC software that provides techs a job brief when they receive each assignment reduces diagnostic time when the tech arrives on-premises.
Tech Performance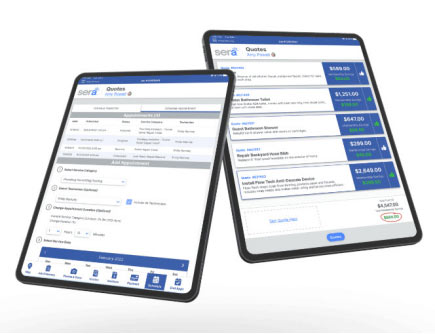 A multi-function mobile tech app helps techs work much more efficiently and complete more jobs each week.
It greatly simplifies techs' work enroute and on-site. A mobile tech app should access price information for techs to create Good-Better-Best proposals in a few minutes. Job and price comparisons in proposals help customers understand their options and choose the solution that works best for them.
When the job is complete, the tech app should process payments and provide receipts to close out the job. If a follow-up appointment is required, the best tech apps allow techs to schedule follow ups with customers before leaving the job site.
Reporting & Analytics
Automation is a tool, not a replacement for people. To get the full benefit, you must be able to bring the big picture of your operations into focus with current data. Some FSM software updates your data every few hours, which doesn't provide the speed you need to make timely decisions.
Insist on FSM software that uses live data. This will enable you to spot potential problems and resolve them quickly. Your data should appear on a customizable dashboard that allows you to track your key performance indicators (KPIs) and the status of each job in progress.
The live data stream will provide a wealth of insights into tech efficiency and workflows. If one or two techs consistently require more than the allotted time to complete a task, work with them to improve. If most don't meet the standard, review the workflow to find the problem.
Customer Service
Everyone sells similar products, whether HVAC, plumbing, or garage doors. Some customers will decide based on brand, while some will look for the lowest price (avoid price shoppers).
If you provide outstanding customer service, you will never lack customers – and you can charge premium prices. People want good service and they are willing to pay for it. Field service management HVAC software for small businesses frees up time for your staff to spend quality time with customers.
Providing a secure customer communication portal lets you personalize service for each customer – and it all but eliminates time spent answering calls about service records and warranty coverage.
Salesforce research revealed that 91% of consumers say a positive customer service experience makes them more likely to make another purchase – which leads to still more efficiency gains because you spend less time looking for business.
Marketing
Conversion rate optimization agency Invesp says it costs five times more to attract a new customer than to keep an existing one. Because of the repeat business (and referrals), improving your customer experience helps your business as much as it helps your customers.
Don't wait for customers to call – take the lead. A good way to do that is with an HVAC service membership plan that offers great value. Show customers how to get their money back fast simply by scheduling tune ups included in the plan. Then show them member discounts that save them additional money. It's irresistible – and highly profitable.
Membership plans create additional sale opportunities when you send reminder messages to customers to schedule their tune ups. They also keep HVAC techs busy during traditional off-season slow times. Staff turnover shrinks because techs want to stay where they get consistent work and good pay.
Cash Flow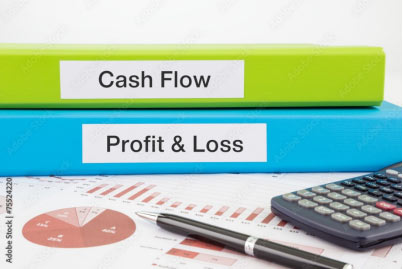 FSM HVAC software improves cash flow in several ways. Using a mobile tech app to create proposals and collect payment before leaving the customer's premises reduces billing cycles from weeks to minutes.
Creating Good-Better-Best proposals in a few minutes with the app saves techs' time, and improves closing rates and ticket prices.
The biggest benefit of memberships, however, is increased revenue. Sera's customer data shows that sales to members generate up to 2.5 times as much revenue as non-members.
What FSM HVAC Software Should Do for Your Business
Increasing efficiency to cut costs is where most HVAC software starts and stops. That makes the software a useful but limited tool, not a total small business HVAC software solution. A new era of field service management software has begun. Leading FSM software providers now place equal emphasis on growing revenue and increasing profit margin.
Growing an HVAC or plumbing business that has 3-4 techs to one with 5-10 is the most difficult stage of development. This is the point when owners must make the transition from making service calls to managing a growing business.
The trouble is, many lack the business background to succeed. FSM software that uses each company's own Profit & Loss data to help them set prices more accurately is a far better solution for these companies.
The Ideal FSM HVAC Software for Small Businesses
Most field service management software was developed as modules for different tasks. They promote the flexibility to "only pay for what you need."
Flexibility is good, but it also has some drawbacks. You may not know which features you need, which functions may actually cause more staff work, and how to make sure you have the latest updates for all features all the time.
CAUTION: If you want to build your own FSM software package, be certain to get all modules from the same company. Mixing and matching brands often results in interoperability problems – and having to work with multiple tech support departments.
A growing number of small HVAC businesses are choosing a total software solution that combines features to improve efficiency, reduce costs, increase revenue and profit margin, and build a loyal customer base. It is the ideal HVAC software for small businesses.
We designed Sera to provide a total HVAC business management solution for small-to-medium-size field service companies. Everything is included; there are no add-ons to buy. This is the ideal way to transition from making service calls to making business decisions.
We can't speak for other companies, but we can show you how Sera works.
Kick-start Your Financial Performance
Sera offers the only field service management software that analyzes your business's Profit & Loss data along with operational performance data. You will know your true costs so you can charge competitive prices and make a healthy profit.
The average net profit for US HVAC companies is 8%. Companies using Sera are doubling and tripling that number. Our clients have documented an average of a 52% revenue increase compared to their previous FSM solution within the first six months of using Sera.
The P&L report below shows the dramatic year-over-year performance improvement one customer made after switching to Sera FSM software.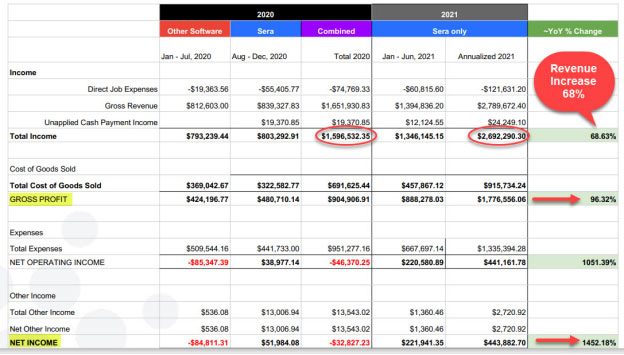 This success comes from these unique features built into Sera's software:
Built-in dynamic margin pricing to set your target profit margin first and then determine pricing needed to support it.
Live job time efficiency tracking so you can quantify the efficiency of each tech on each job and then get aggregate numbers company-wide by the day, week, month, and year. This is a Sera exclusive feature.
Membership program management to build a loyal customer base for repeat and referral business.
You can track financial performance with live data displayed in the Admin Portal and export it into QuickBooks Desktop and QuickBooks Online.
Maximize Operational Efficiency
As you monitor tech operating efficiency via the time bid for a job and the actual time to completion (image below), you can spot areas that may call for additional training or process improvements.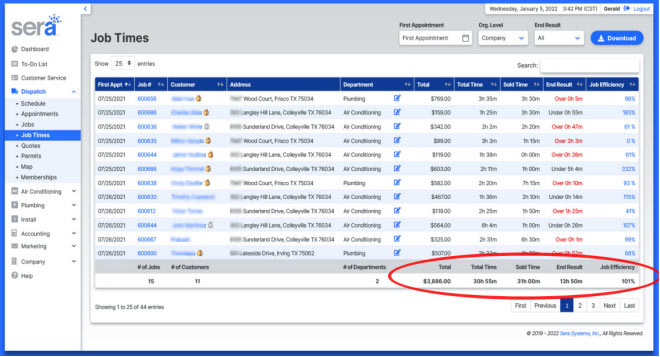 The Tech Leaderboard – visible on the Admin Portal and Tech App – shows revenue, jobs sold, closing rate, and average ticket for each technician. Making this data visible to techs spurs some friendly competition and keeps everyone sharp.
Live data lets you browse the dispatch board for job assignments, see appointment details, manage permits, and track membership information.
Online self-scheduling and automated dispatching provide a big boost in operating efficiency, but the game changer is Sera's exclusive Job Time Tracker that helps document and charge for every minute of each employee's time. Real-time and historic data combine to show performance trend lines.
C
onclusion
FSM HVAC software for small businesses is designed to boost operational efficiency and cut expenses. Automating routine tasks, such as scheduling and dispatching, the software allows businesses to allocate staff time more effectively.
As a result, your office staff can manage techs more efficiently, so you can add techs without having to add office staff. That enables you to cut expenses and increase revenue at the same time. Office staff can focus on revenue-generating activities and providing incredible customer service to build repeat and referral business.
The best FSM HVAC software helps maximize efficiency in
Scheduling
Dispatching
Tech performance
Reporting & analysis
Cash flow
Customer service
Marketing
Sera goes beyond cost-cutting through improved efficiency. Sera uses each customer's own P&L statement and other financials to increase revenues and profit margins to help small-to-medium-sized HVAC businesses grow fast.
Want to know more about how Sera can help your HVAC or other type of field service business boost efficiency and profitability? Schedule a call for a personal demonstration now.