Estimates are key for establishing pricing for home service businesses. Whereas other industries can offer set prices for products and services, HVAC contractors need to consider the complexity of the project, its duration, the number of technicians required, and other factors to provide a fair quote.
This task can be challenging, but HVAC businesses find an ideal estimating solution in field service management software. Learn more about HVAC estimating software and the top features contractors need from Sera.
What is HVAC estimating?
HVAC estimating involves evaluating HVAC installation and repair jobs to provide customers with a precise cost estimate. The specialists who complete cost estimates are aptly called HVAC estimators. Typically duties of a cost estimator include:
Identifying cost variables: HVAC estimators look at the aspects that dictate overall cost and communicate these factors with other team members and the client. Elements contributing to cost include project type, labor rates, production time, and material pricing.
Creating detailed cost estimates: After gathering all variables, HVAC estimators analyze them in cost databases to develop the most accurate estimates for customers.
Collaborating with HVAC professionals: HVAC estimators discuss with contractors, technicians, and other personnel before providing estimates.
What is HVAC estimating software?
HVAC estimating software provides a cloud-based solution for simplifying the estimating process and providing more accurate pricing. It delivers templates and other tools to help estimators calculate time and material costs, as well as price margins, for HVAC projects like installations and repairs. Some HVAC software includes additional functions, such as tools for generating quotes, drafting proposals, and project management.
Top Features Your Tech Team Wants
Not all HVAC businesses are created equal. Contractors may focus on residential or commercial HVAC or serve specific sectors. While needs differ from company to company, the best HVAC estimating software for residential contractors includes the following features:
Labor Cost Estimation
The cost of labor is the total expenses of employee pay and benefits. It's key to estimating but is also valuable for HVAC contractors. Estimating software can help estimators calculate direct labor costs (employees involved in providing the service, like techs) and indirect labor costs (support the delivery of services, like admin staff).
Quote Generation
Contractors constantly look for ways to deliver better customer service. If techs need to contact office staff for information on quotes, it can slow down service and potentially create an adverse customer experience. The best estimating software enables real-time adjustments to pricing so techs can provide multiple quotes within minutes to a homeowner.
For contractors offering memberships, some estimating software also allows techs to show customers the difference between member and non-member pricing. This feature can boost memberships, helping contractors secure year-round business.
Proposal Creation
Price is not always the first or only concern for customers. Some homeowners want to know how contractors intend to help them solve a problem. For example, a homeowner may notice they're spending more energy in the summer and want insight into how particular equipment or systems can make their air conditioning more efficient.
In these cases, quotes aren't enough — a proposal is necessary. Proposals involve offering several solutions that combine services to fix the issue. Estimating software can help in designing proposals by looking at the various solutions suggested and calculating total cost according to material costs, project time, and profit margins.
Document Management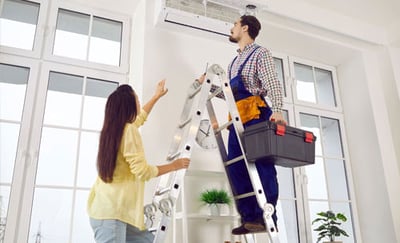 To make better cost estimates, estimators must review many documents and datasets, such as timesheets, spreadsheets, and change orders. Trying to manage all this information manually can impede day-to-day efforts for estimators, preventing them from focusing on tasks that increase business.
Estimating software can help consolidate this data to facilitate more effective job management. For instance, some estimating software allows for QuickBooks integration, streamlining the flow of financial data from invoices to accounting software. This function can eliminate the possibility of double entry.
What are the advantages of estimating software?
As with any investment in new technology, HVAC estimating software should contribute to growth. However, attaining new software may feel like just another added expense, especially for small businesses like residential HVAC contractors whose budgets may be tight. The following five benefits prove how utilizing a cost-estimating tool ultimately helps save time and money, boosting profits in the process:
Increase profitability by reducing labor costs: Manual cost estimating can be time-consuming; estimating software makes creating workflows and other project management tasks more efficient.
Improve team collaboration on jobs: Estimating software can enhance communication to keep all employees, from admin staff to techs, updated on quotes for each project.
Augments productivity without requiring more personnel: HVAC estimators can use estimating software to accomplish more without hiring more office staff.
Streamline the bidding process: Bidding is about more than offering the lowest price. Estimating software simplifies bidding to enable techs to price HVAC jobs accurately.
Reduce the risk of duplicate work and other errors: Real-time updates help lower the chances of data entry, which helps limit the possibility of errors.
Enhance Cost Estimating with HVAC Service Software
Many software solutions are available for residential HVAC contractors, including tools for scheduling and dispatching and customer relationship management (CRM). As such, contractors may wonder why estimating software is necessary, but its many features and advantages show it's integral to scaling up business and increasing revenue.
For HVAC service software that helps residential contractors streamline cost estimating and other key processes, turn to Sera. We go a step above other field service management software providers, getting to know each business more intimately to understand their unique concerns and obstacles.
With our software, contractors can identify and correct financial gaps and inefficiencies to reduce the burden on your employees while boosting your bottom line. Built on the four principles of field service management, our software is not only advantageous for residential HVAC contractors, but residential plumbing contractors, electricians, and other general contractors in the home service business.
Contact us to learn more about our software, or schedule your 15-minute discovery call today.