Calling all HVAC, plumbers, and home service contractors! Your business success relies on efficient management and growth. Discover the perfect software solution tailored to your needs with a comprehensive comparison of Sera Systems and Housecall Pro. Don't miss out on this opportunity to elevate your business.
Sera Systems
Experience the brilliance of Sera Systems, a software solution founded by Billy Stevens, an industry leader who has built two eight-figure HVAC and plumbing companies. Let's delve into the core benefits that make Sera Systems stand out from the crowd:
Simplicity by Design:
Sera Systems takes pride in its straightforward approach to scheduling and managing projects. No complex features or unnecessary complications—just a user-friendly platform designed to simplify your workflow.
Job Time Efficiency:
Sera is the only software on the market to offer job time efficiency, which ensures you can charge for every minute, of everyone's time, all year long. Essentially helping you identify gaps in how jobs are priced while maximizing productivity by streamlining operations. Ultimately, getting more of the money you're making to your bottom line.
Empowering Decision-Making:
Gain valuable insights and data to make informed decisions that enhance the profitability of each job. You can optimize resource allocation and improve overall project profitability by leveraging Sera Systems' comprehensive, yet user-friendly reporting tools.
Pain-free Onboarding:
Sera Systems recognizes clients likely have had painful onboarding experiences in the past, which is why Sera focuses on providing clients with a positive onboarding experience. Clients work with an assigned Onboarding Specialist throughout the entire process, which includes regular calls or meetings along with 5-6 training sessions. On the day of launch, clients have regular touch points with their specialist throughout the day.
Intuitive Tech App:
Customers have a consistent experience across all jobs as the workflow with the app ensures techs follow the same steps for every job. Techs can also build multiple quotes built within minutes and also highlight membership cost savings with straightforward two-column quoting
Strong Customer Service:
Sera Systems is committed to delivering top-notch customer service. The statistics speak for themselves:
Onboarding Customer Satisfaction Score (CSAT): An impressive 90%
Customer Satisfaction: 71 NPS score after 120 days of using Sera
Swift Response Times: Over 64% of client support tickets receive responses within 20 minutes during business hours
Housecall Pro
Now, let's explore Housecall Pro, another field service management software solution for the field service industry. Features and benefits are below.
Job Management:
Housecall Pro offers a platform for managing your field service jobs. From creating and scheduling jobs to tracking progress and completion, Housecall Pro attempts to simplify daily workflow. There are many functions included, which allow for diversity, however, you may find that some foundational workflow functions are missing. For example, the calendar function is not built to store jobs before they are assigned to technicians, so if your business receives jobs overnight it can be difficult to organize them in the morning.
Customer Experience:
With Housecall Pro's online booking system, customers can submit requests for work at any time through a user-friendly interface.
Mobile Communication:
Equip technicians with the Housecall Pro mobile app, transforming their devices into on-the-go management tools. Access job details, update statuses, and communicate with customers, enhancing efficiency and customer satisfaction while dispatched.
Streamlined Invoicing and Payments:
Optimizing billing processes is a functionality of the software through an integrated invoicing system. The software allows the acceptance of various forms of payment from customers.
Reviews from the Community:
Housecall Pro is a common software solution in the service industry, but it does have its faults. Customer service and technical help from the Housecall Pro team aren't always helpful, particularly when there are billing issues with the account. Their sales team also "doesn't know the meaning of no" and can be aggressive with selling their software to companies or preventing companies from leaving their services.
Key Features Comparison: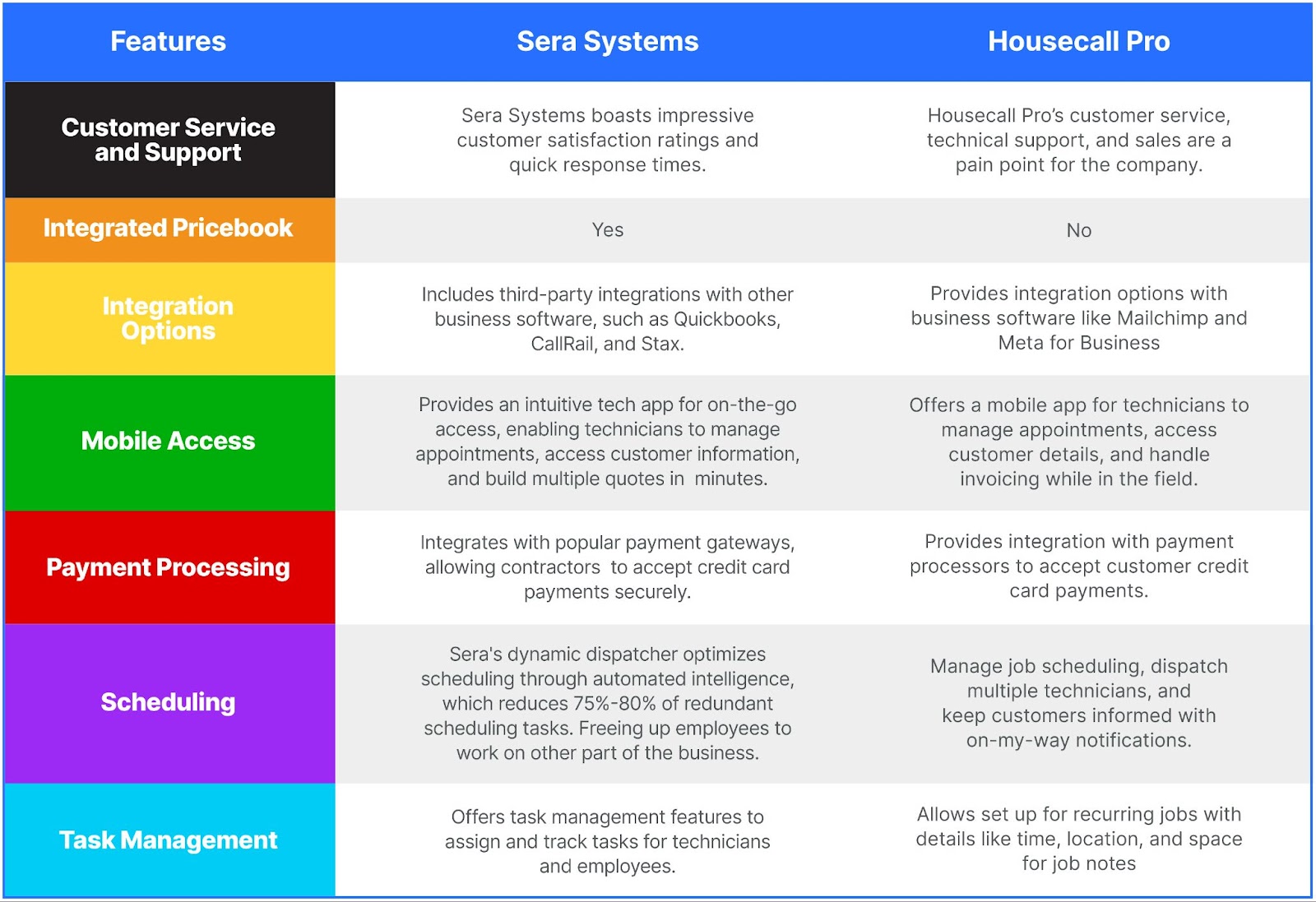 Let Sera Take Care of Your Business
At Sera, our focus is helping clients grow their bottom line while being a partner that's there for them. Sera's purpose-driven design, one that's built with business principles in mind, simplifies your business by managing complexity on your behalf.
Our FSM solution is founded on four essential principles: Time Savings, Membership Management, Margins, and Cash Flow. With a comprehensive feature set and a strong foundation, Sera empowers your home service business for profitability.
With Sera, you can focus on connecting the dots rather than assembling the pieces. With the best HVAC and plumbing field service management software, leave the 8% industry average behind as Sera maximizes your profits through live job time efficiency tracking, dynamic dispatching, margin pricing, and comprehensive membership program management.
Contact us today to learn more and start your journey toward field service management excellence.